FLAT SILO AERATION SYSTEM
Smooth unloading and high empty rate is essential and especially important for big capacity powder materials storage silo. SRON has proven technique of silo aeration unloading system for flat bottom silo. The whole flat bottom silo aerating discharging system composed of steel pressure relief cone, silo bottom aeration box, aeration piping, valves and curves, PLC control system etc.
We have mainly four types of aeration box, rectangle, right angle trapezoid, isosceles trapezoid, special shape, which have the advantages of simple structure, reliable performance, no noise, easy maintenance, etc. And the layout form and quantity of aeration box in flat silo bottom is uniquely designed and different for each silo project, our engineers will customized design for clients according to the different material in storage, local environment factors and technological process.
SRON flat silo aeration system can ensure:

High degree of silo empty
Long life span
High reliability and rare maintenance needed
Easy modification work
Low power consumption
Full automatic controll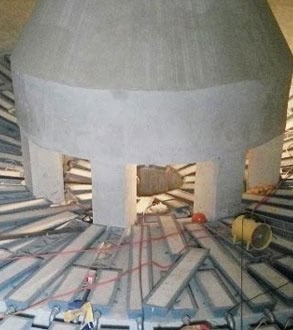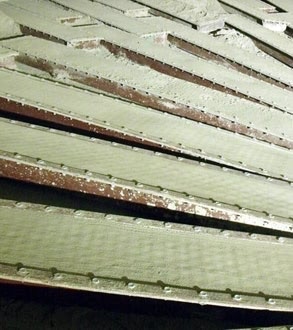 CONE SILO FLUIDIZATION SYSTEM
Cone silo has the advantage of gravity unloading, while it is optimized to guarantee the unloading smoothness again by aeration box located on cone part. On design, our aeration box has large aeration area than traditional aeration nozzle, which has a super performance of smooth discharge and avoid blocking.
Advantages of open type aeration box:

Large aeration area
Good pneumatic permeability
High strength
Wearing resistance
Easy maintenance (the structure is installed on silo outside, so it is very easy for replacement from silo outside)