Jul 05, 2017Keywords: Large Capacity Steel Silo, Fly Ash, Steel Silo Storage Technology
1.1 Application status of large steel fly ash silo
Generally, large steel silo refers to silo with diameter no less than 18m. The big capacity steel silo was begin to apply in China from 2007 , and gradually applied to the field of fly ash storage from 2008 . Before that, it mainly used for storage cement, So at present, the cement steel silo has been fully promoted.
1.2 The feeding process of large capacity steel silo
There are two main feeding method for big capacity steel silo. The first method is Installing the single tank pump under the dust collector of the power plant and feeding silo by Pneumatic conveying pipe. When the distance is within 1500mm, mostly use this method. The second method is The second option is to use a fly ash bulk truck transport and then use a bulk truck pump to feed into the steel silo.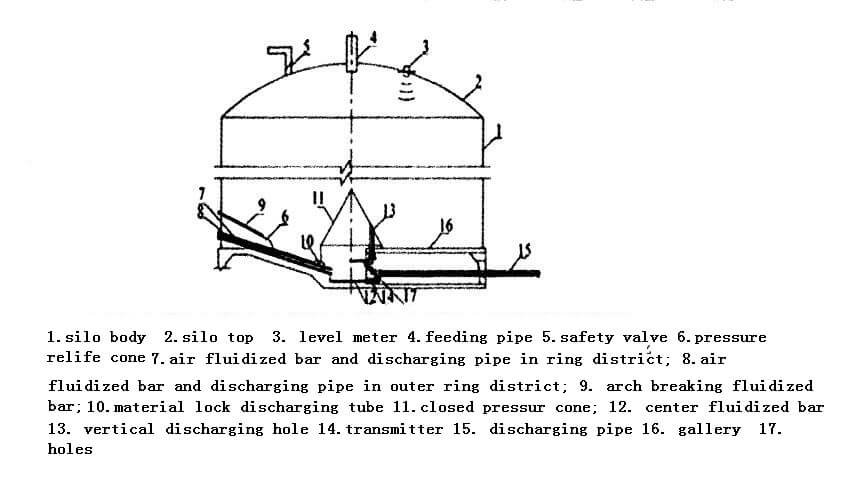 1.3 Discharging principle
There are a closed pressure relief cone in silo bottom, the bottom of pressure relief cone is equip with material activation aeration device . The side plate is equip with material transmitter, Top is equip with vertical discharge pipe. Silo bottom plate is at an discharging angle of 17 ° to the horizontal level. According to different silo diameter, generally the sio bottom aerating area can be divided into above 50 districts. The aeration discharging district can be divided into out ring aeration district and inner ring aeration district, and set material guide cone between two adjacent material guide groove in outer district, which constitute a V-type discharge unit. When supply air from roots blower to one district, the material in this district is in fluidization, and flow into center pressure relief cone district. The material which flow into the center pressure relief cone is agitated into the activated material by aeration air, which has good fluidity. And these material will go to conveying pipeline through the aggregate and jet of the transmitter, finial complete the discharge of the steel silo.
1.4 Discharge conveying process of big capacity steel fly ash silo after
Generally there are two discharge conveying process of Large capacity steel fly ash silo. The first method is conveying the material to elevator by chute or pneumatic conveying pipe, and then conveying to bulk truck or into proportioning silo by chute. The second method is conveying the material to bulk truck or into proportioning silo directly by pneumatic conveying pipe.