Features of SRON Bolted Silo
1. SRON Bolted Silos often work as the cement storage tanks, which are the one part of the batching plant for sale.
2. The Bolted Silos have the function of monitoring the level and amount of materials in the bolted cement silo. Because there is the level indicator equipped in silos.
3. When it is equipped on the concrete batching plant, it will work with screw conveyor. Therefore, it will convey the cement, fly ash to the certain place.
4. Due to the suitable structure and design, the silos can be loaded into the container easily. So the bolted type of silos are very suitable for exporting to foreign countries.
5. The bolted type of cement silo for sale is easy to install, move and maintain. It is the first choice for the investors.
6. Our Bolted silos have reliable sealing, which ensures the perfect performance and long working life.
The Advantages Of SRON Bolted Silo:
1.Bolted silos are definitely the perfect solution when you need easy transportation. Bolted silo is bolted down and contains a strong hold that is not planning to break. The silo is quite strong and is particularly planning to hold whatever you should hold. If you are planning on investing in a bolted cement silo for sale, you should consider ordering it from China because the price will be a good deal cheaper.
2.Bolted silos may be shipped all over the world so it doesn't matter where you reside if you want a silo. The silo can take a large amount of material and are generally typically employed to store cement, flyash, powder and coal. The silo is painted with a resilient and strong pre coat and final coat and every silo is crafted from the strongest steel.
3.Bolted silo may be customized thus it works well with your business and whenever you order you obtain pre and post sale service. The silo will almost certainly last for a long time with little maintenance and any maintenance that should happen is going to be low cost. The silo has perfect sealing which means you don't need to bother about it no longer working properly. Also you can store a variety of things from the silo which makes it very flexible for all your needs.
Bolted Silo Manufacture Capacity:
SRON silo own advanced manufacture machine, our worker are skilled, we can manufacture bolted cement silo over 100 sets per month. Reasonable arrangement of production can make sure we delivery on time, also in high quality.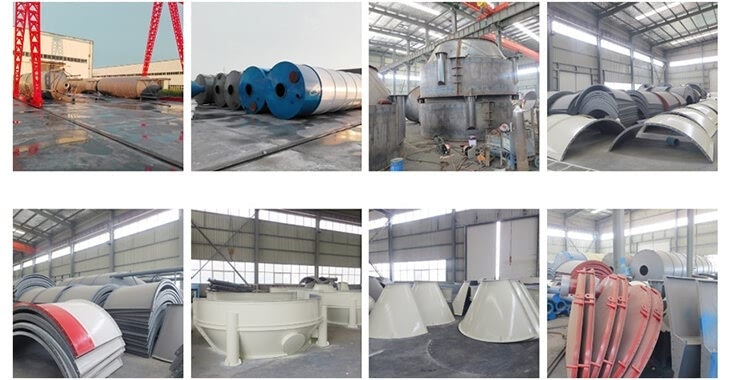 Bolted Silo Structure:
SRON silo team will overally consider the the silo location wind speed, seismic and temperature, to make sure the silo wall sheets thickness, bolts grade, legs strength are all enough for silo safety usage.