May 16, 2020Keywords: Cement Silo,Cement Silo For Concrete Mixing Station,Concrete Mixing Station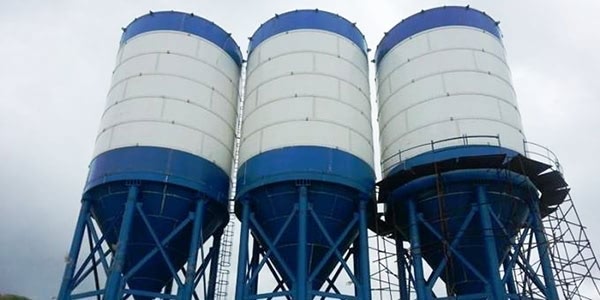 Cement Silo For Concrete Mixing Station is an important part of the concrete mixing station, which is mainly used to hold the powder that needs to be mixed. If the powder in the silo is wet or accumulated for too long, it will cause the powder in the silo to arch and agglomerate. Among them, the powder arch means that the powder is not flowing smoothly, forming a similar arch bridge. Kind of phenomenon. After the powder is arched and condensed into lumps, the fluidity of the powder becomes extremely poor. When the powder needs to be transported out of the silo, it will be very slow. If the arching and agglomeration are serious, the powder will not be able to Send.
SRON is the leading general contractor for bulk material storage projects in China. We are committed to providing safe, reliable, technologically advanced cement silo for concrete mixing station, as well as complete set of equipment and EPC solutions for the storage of bulk materials such as cement, fly ash, clinker, coal and ore. It is our vision to build an international brand in the field of bulk material storage. We will provide you reliable service with a professional, rigorous and pragmatic attitude!