Compared to traditional cement concrete silo, steel silo has large reserves, short construction period, low construction costs, material library rate is high, generally large silo capacity are tons, can meet the general or fire cement companies storage requirements of power plants and steel silo can be designed according to the placement site topography, construction steel silo group to meet the needs of larger capacity.
Steel silo with its powerful advantage and market efficiency rapidly replacing the traditional warehouses are widely used in many industries, particularly cement and fly ash storage silo in recent years more and more being used in food, feed, and other powder bodies material storage.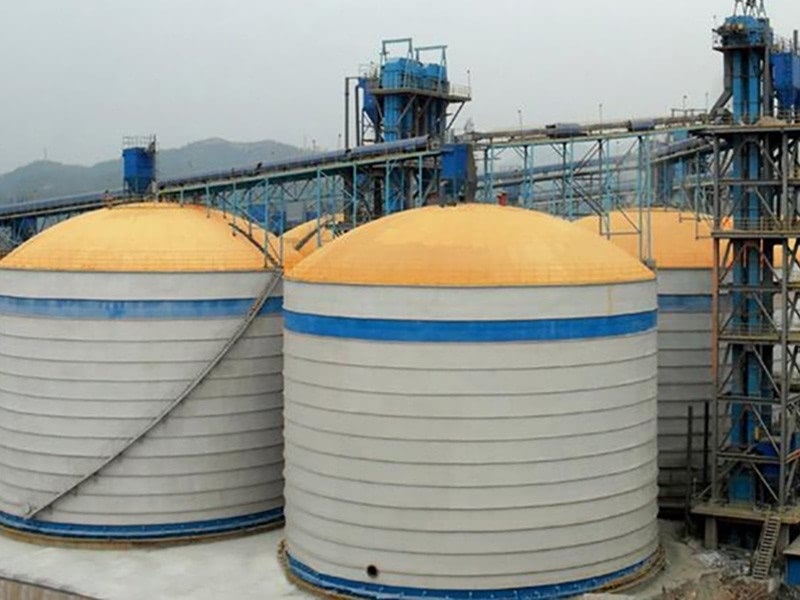 Steel silo construction for industrial areas of food, feed, oil, flour, brewing, building materials, chemicals, ports, and environmental protection, to address the high labor intensity, covers an area of ​​large, high cost, storage, and transportation difficult, difficult to control temperature and humidity and other problems, to achieve " large capacity, automation, intelligent "storage and transport, warehousing Companion focus for domestic and foreign professional design, manufacturing, professional installation, and assembly warehouse spiral steel silo project, can provide customers with a single-chamber spiral 50-6000T, single assembly cartridge 10-10000T, 50-1000T / H delivery device of large projects.
The introduction of advanced technology in the world of European construction, unique and specialized spiral steel silo construction method:
High strength, vertical stiffener cylinder wall, the spiral undercut transverse rib, the whole body greatly enhanced strength, wind, earthquake, anti-snow load capacity;
tightness, cylindrical spiral link from undercut five times the thickness of the whole body thickness, good sealing performance, easy to fumigation.
The short construction period, to build a steel silo capacity of one thousand tons, only 5-6 days, and can be put into use as soon as possible, to create customer benefits as early as possible.
The appearance and practical, Storage tapered shape, easy to fouling, water, and a cartridge body smooth lines.
The long-life cylinder coil manufacturing hot-dip galvanized, new processes using warehouse roof, a strong corrosion resistance.
Fabricated steel silo full introduction of the world's leading processing equipment and technology, high precision, can achieve a high degree of mechanization and automation, high production efficiency, saving a lot of labor. Reserves range up to 15,000 tons, fully furnished, to meet the different needs of customers. By effectively controlling the progress, quality, safety, and cost of each silo project, to ensure maximum customer value.