Recently, Henan SRON Silo Engineering Co., Ltd. passed the "Enterprise Intellectual Property Management Regulations" GB / T29490-2013 national standard audit certification, and has been awarded the "Intellectual Property Management System Certificate" , It signifies that SRON has reached the domestic leading level in the creation, use, management and protection of intellectual property rights!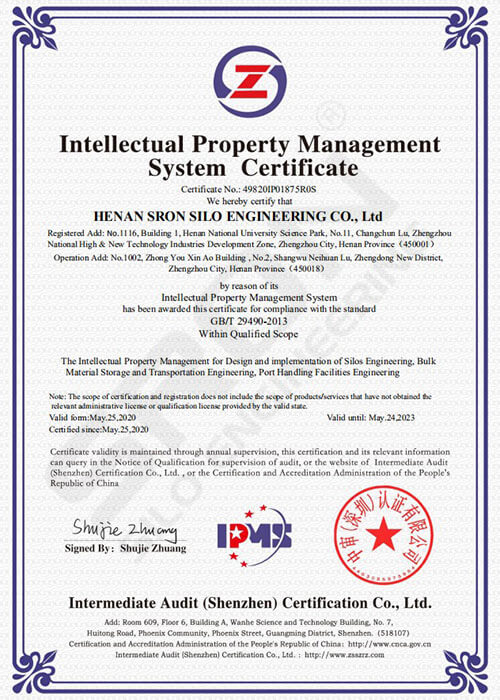 SRON as China's leading general contractor for bulk material storage and transportation projects, has attached great importance to intellectual property work for long, and strived to build a core competitiveness with intellectual property as its connotation. Up to now, the company has obtained nearly 100 intellectual property rights, in addition to more than 20 patents in the application, participated in the drafting of 1 national standard. SRON promotes independent innovation and transformation of technological achievements through a completed intellectual property management system, and escorts the company's innovative development and sustainable operation.
The implementation of this standard means that SRON's intellectual property management has reached the new step. At the same time, it also encouraged SRON to further awareness of intellectual property rights, implement the intellectual property management norms in all links of R & D, production, sales and management, and comprehensively improve the market competitiveness. In the future, SRON will vigorously implement the intellectual property strategy, enhance brand influence, and be more confident to provide customers with safe and reliable bulk material storage and transportation equipment and engineering, and to make positive contributions to the development of the industry!