The Features and Reasons of Popularity of Welded Steel Silos
Dec 24, 2022Keywords: Welded Steel Silos, Cement Silo, Fly Ash Silo
Features of Welded Steel Silo:
1.Small Gas Consumption of the Homogenization and Discharge System
Because the welded steel silo adopts the design concept of gas fluidization, gas homogenization, and gas outbound transportation integration, that is, the principle of one gas with multiple functions, it can save a lot of gas sources. Considering that the storage period of cement is longer and the bulk density increases, high-pressure air is used as the gas source. The comprehensive power consumption of gas homogenization, unloading, and transportation per ton of cement is about 0.3 degrees. If the cement is stored for too long, the power consumption will increase relatively.

2. Good Storage Effect.
Due to the good sealing performance of the welded steel silo, the stored cement, fly ash, sand, gravel, aggregate, etc. are in tight air isolation, and the materials are in a vacuum-sealed state, which ensures that the characteristics of the materials do not change.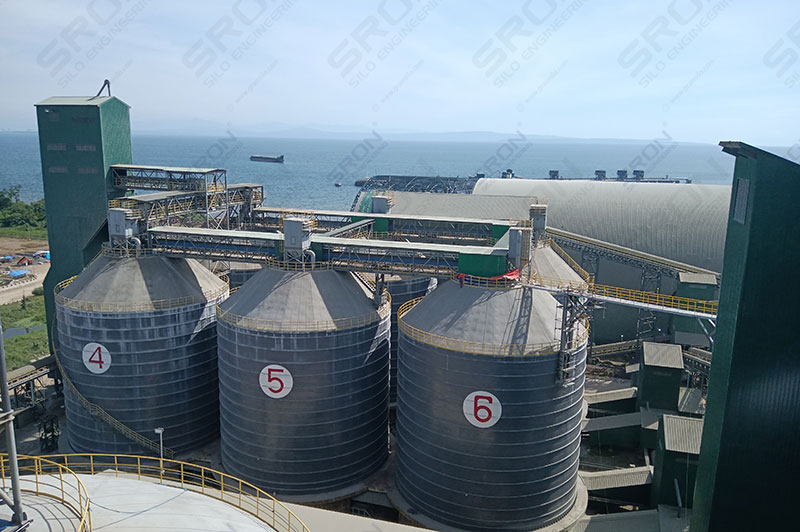 3. Low Carbon and Environmental Protection.
The top of the steel silo is a load-bearing dome, and each silo is equipped with a pulse vibration dust collector, which mainly collects the dust generated when the material is put into the silo, so that the dust emission concentration is below 30mg/m.

4.Flexible Process Layout.
According to the actual situation of the site, it is arranged in various forms. The direction of the discharge corridor and the selection of lifting equipment can be determined according to the actual situation of the site. The layout of the welded steel silo is free and flexible, which can meet various needs of clients.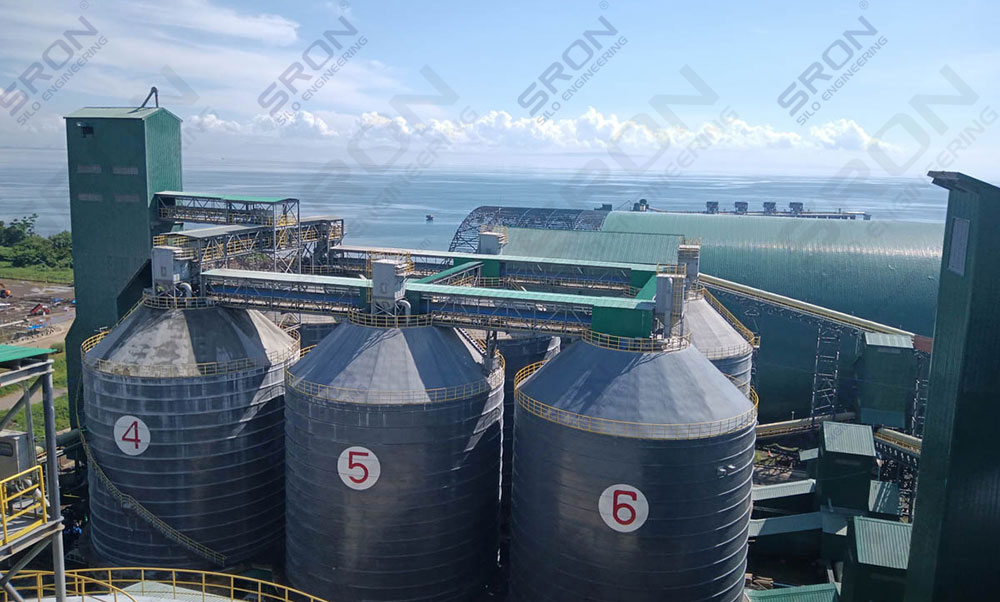 5. Extensive Storage and Application.
The welded steel silo can be used to store cement, clinker, slag powder, fly ash, sand, aggregate and other industrial bulk materials. Widely used in cement plants, thermal power plants, steel plants, mines and other industries.

6. Short Construction Period and Long Service Life.
According to different geological conditions, site environment and capacity, the construction period is usually different, while the construction period of a general welded steel silo is about 4 months, and its service life can be as long as 30-50 years.

Discharge equipment for welded steel silos has virtually no maintenance costs. If the anti-corrosion maintenance is carried out according to the specifications, it only needs to be painted once every few years to ensure a reliable service life of 30 years. There is no obvious external corrosion, which saves maintenance and protection costs.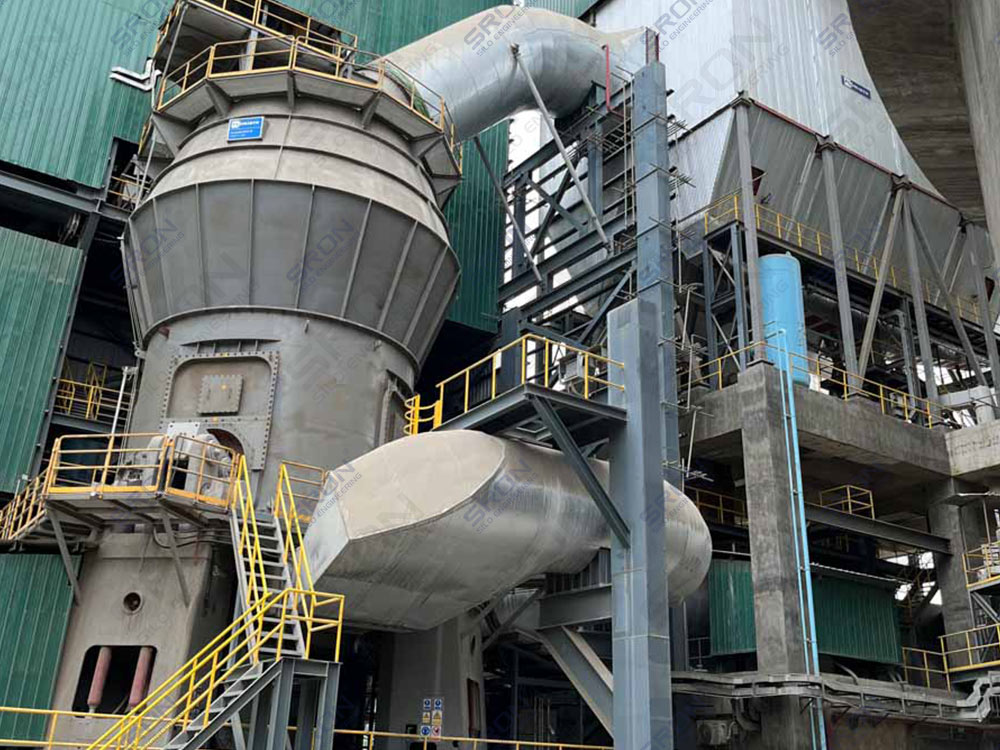 What are the Reasons for the Popularity of Welded Steel Silos?


1.A good cement steel silo must have a reasonable land-storage ratio: a good cement steel silo must first store more cement at the same floor space, save land resources, and allow the cement steel silo to have more storage capacity under reasonable space conditions.
2. The material advantages of a good cement steel silo: the building materials used in cement steel silo must be good and anti-corrosion. Good building materials can always prolong the service life of cement steel silos. In addition to long service life, long-term storage of cement will also corrode the silo. Good building materials have good corrosion resistance, which reduces the frequency of replacing steel silos and reduces our costs.
3. Good welding technology: Good cement steel silos have the advantage of good materials. Its welding process is also good, and a better welding process can greatly shorten the installation time of the steel silo.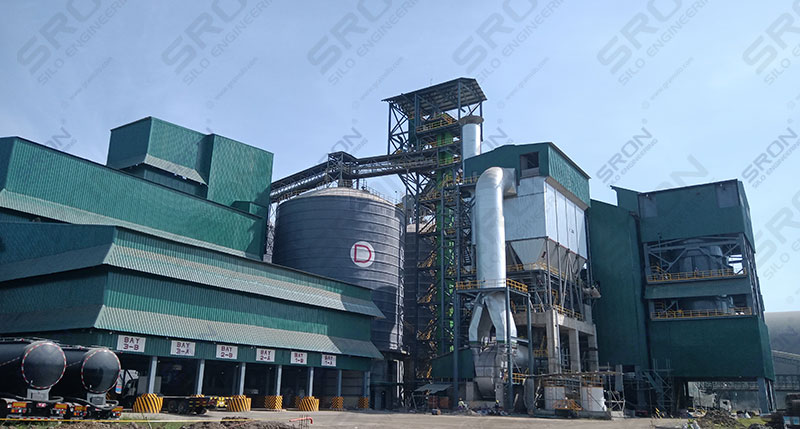 About SRON Silo Engineering
HENAN SRON SILO ENGINEERING Co., Ltd.

is China leading reputable EPC Contractor for
bulk materials storage silo project

, closed storage yard, and bulk material port handling project for
grain silo storage solution

etc. SRON has the
qualifications

of Main Contractor for civil construction projects, Main Contractor for mechanical and electrical projects, and Specialized Contractor for steel structure project. We have the complete qualifications in the field of bulk material storage and transportation in China.

SRON focuses on scientific and technological research, achieving new researching technologies each year. Currently we have
62 patented technology

, among which 7 are invention patents.


SRON have built projects in more than 30 countries and regions, including Russia, South Africa, Indonesia, Malaysia, Kenya, Mongolia, Philippines, Peru and so on, with more than 900 sets of steel silos and up to 3 million tons of materials storage capacities, SRON quality and reputation are highly recognized by global users. For more information about Sron Silo Engineering and the Storage silo solution, please
contact us
or leave your requirements.


Technology Builds the Beauty of Project
Please feel free to give your inquiry in the form below. We will reply you in 24 hours.