Experts of Northeastern University Engineering&Research Institute Co., Ltd. Visited the Headquarters of SRON Company for Visit and Exchange
Feb 21, 2023Keywords: Experts of Northeastern University Engineering&Research Institute,SRON Company ,Visit and Exchange
On February 3, 2023,mechanical engineering and automation expert Dr. Huang, marketing minister Gao, R & D director Chen Gaoqiang and other members from Northeastern University Engineering&Research Institute Co., Ltd. (abbreviated to NEUI)went to Henan SRON Silo Engineering Co. Ltd. headquarters in Zhengzhou for visit and exchange.Our company's technical chief engineer Yang Gongxiao, deputy manager of the technical department Li Yongxiang and other members gave a warm reception to the visiting delegation of experts from NEUI, and carried out technical discussions and exchanges with them.
Firstly, Mr. Li led the visitors to have a tour of the company and introduced the development profile, corporate culture and the major projects of the company at home and abroad in recent years.
At the symposium, Mr.Li introduced to the experts the basic overview, process design, engineering technology and project mode of the company, and showed the technical advantages and outstanding achievements of SRON through the display of successful engineering projects at home and abroad.
The expert group of NEUI firstly gave full recognition and affirmation to the achievements and technical innovation ability of SRON at this stage, and said that since its establishment in 1981, NEUI has always firmly established the awareness of independent innovation, taken the innovation and application of core process technology as a pioneer, and developed NEUI- PE lightweight skeleton membrane structure closure technology in response to the environmental protection needs of domestic industries' yard closure.They hoped to take this visit and exchange as an opportunity to further strengthen the communication between the two sides and deepen the exchange and cooperation.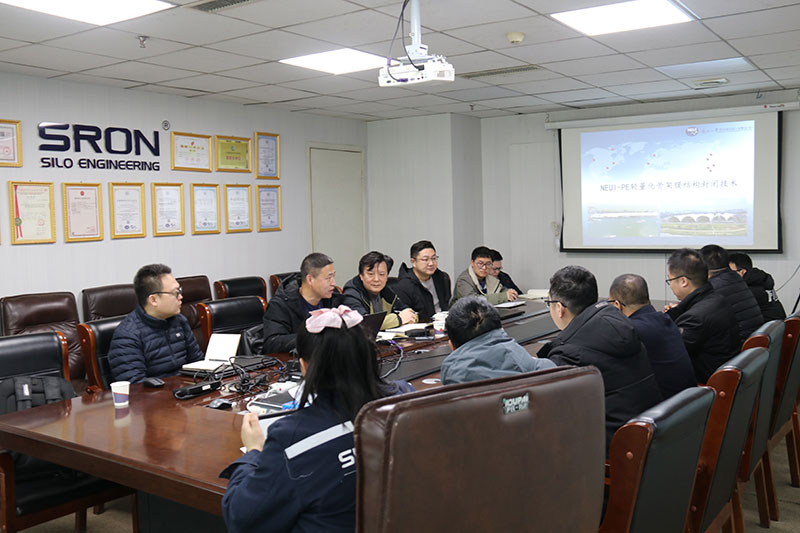 During the technical exchange, engineers from both sides discussed in depth the technical application and engineering design of NEUI- PE lightweight skeleton membrane closure technology in the storage industry, and the talks achieved fruitful results.We both reached a basic consensus on the cooperation of this technology in the field of bulk material storage and transportation engineering projects, and agreed to establish a long-term collaboration mechanism to jointly promote the development and research of this technology as well as the cooperation and interaction of specific projects.
The visit and exchange further strengthened the friendly cooperation between our company and NEUI and promoted the deep cooperation between us. In the future, we look forward to carrying out practical cooperation between our two sides in the field of bulk material storage and transportation with our respective advantages.