Recently, Henan SRON Silo Engineering Co., Ltd. took an active part in the charity work and activities organized by Henan Friendship Association, and made donations to the Sri Lanka China Society to support the development of education in Sri Lanka.
Mr. R. Jinith De Silva, present of Sri Lanka China Society, wrote in reply to express the deep appreciation and heartful thanks to the donation. He also showed that Sri Lanka people will never forget the kindness from Chinese companies, and "Long live Sri Lanka and China friendship".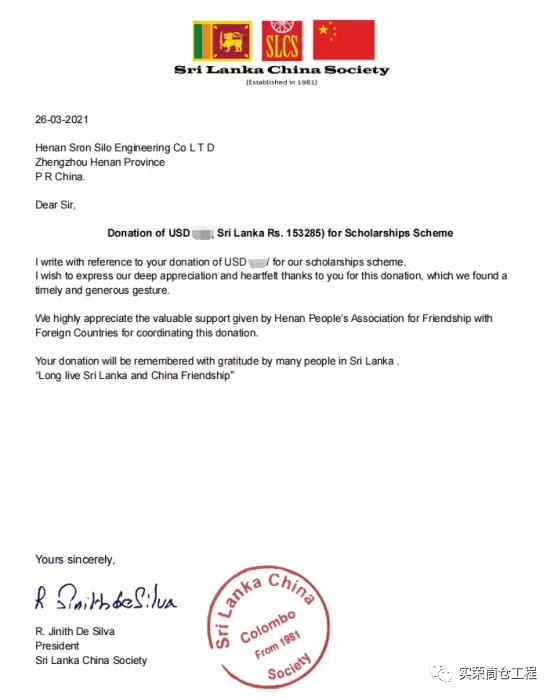 Mr. Wen Peng, General Manager of SRON Silo, pointed out that the SRON Silo, as a governing unit of Henan Friendship Association, has the responsibility and obligation to shoulder its own mission. SRON, as a responsible, warm and capable international engineering company, should respond actively to the call of the national "One Belt And One Road" and make positive contributions to it, which is driven by the nature of the company and the mission.
In future, SRON will live up to the expectations of governments and relevant departments, and to take the responsibility as Chinese enterprises to show the national spirit, such that Chinese people's enthusiasm, mutual helpful, and harmonious development on the international stage!