Aug 29, 2017Keywords: large steel silo, large steel silo making principle,steel silo technology points
Large welded steel silo, mainly welded with steel. There are characteristics of large steel silo as follows:
1.Advanced Design: 20~60 meters can be designed with the library body diameter, and it can be increased when special needs. The ratio of height to diameter is generally between 1:1,1 and 1:1.5.
2.Unique Structure: The library body is cylindrical, and the library top and library bottom are ball-lacking type, the foundation is circular table bucket shape.
3.Large Storage Capacity: Single storage capacity is 1~10 ten thousand ton.
4.Advanced discharging system: Adopt the new pneumatic delivery of cargo from storage system, transport the material in silo to the specified location by pneumatic pressure.
5.Low Investment: The steel silo not only can save about 50% construction material, also save the land use area.
6.Safe and Reliable: The vacuum tightness is good, and the material can be stored for a long time to keep the performance index unchanged.
7.Energy Conservation and Environmental Protection: Adopt the installation of dust collection system, in the process of storage and delivery, will not cause pollution to the surrounding environment.
8.Wide Application: It not only can store the cement, fly ash, also can store the petroleum, chemical raw material, grain and feed etc.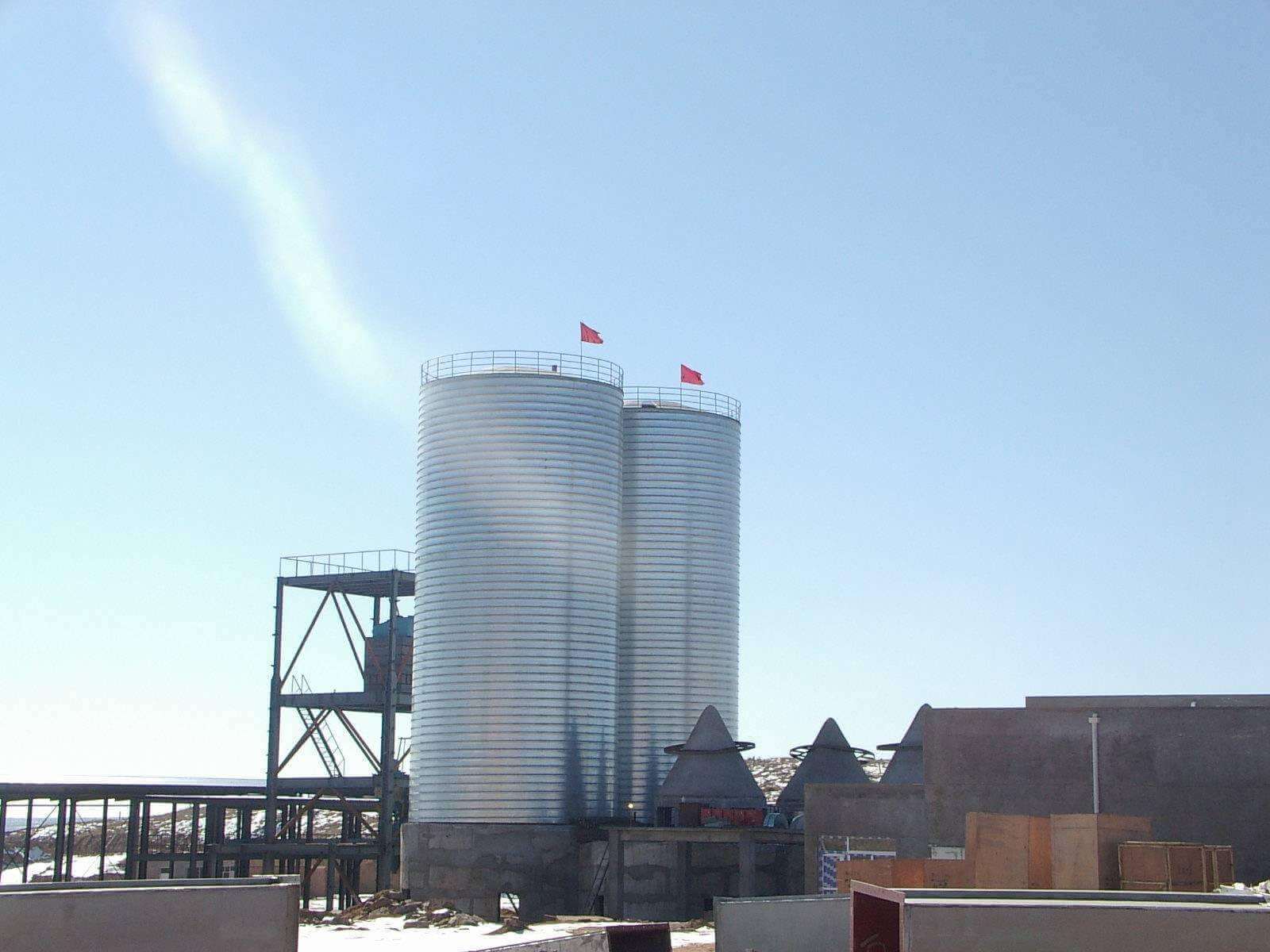 Steel Silo New Technology Keys Points
1. Can solve the technology barrier of physical index drops and the cement harden caused by the temperature difference and moist air in the steel silo wall. This design can effectively control the temperature of steel silo range from 50 ℃ to 160 ℃, and all the physical index of the cement in the steel silo is unchanged.
2. Solve the water penetration and leakage problems of cement at the bottom of steel silo. This design adopts the base bottom high polymer waterproof material technology to make the second strengthen waterproof for the steel silo bottom, the part above the steel plate silo base and steel plate base adopt the anti-corrosion and waterproof material for the final waterproof barrier, the concrete used in the steel silo base and the silo base adopts waterproof and impervious concrete. The controllable scope of this design: Waterproof level is level 1, leakage prevention level 1 - 30 thousand tons of steel silo between P8 and P12 , 5 - 200 thousand tons of steel storehouse between P12.  
3. Solve the complete discharging problem of cement in the steel silo, this design adopts the patented technology, confirm the needs of discharging on time according to the requirement and unblocked discharging, complete discharging. The design index: the empty rate of 1~30 thousand tons of steel library is more than 99.9%, 5~20 thousand tons is above 99.99%.