Mr. Wen Peng Make an Official Visit to Embassy of Rwanda
On October 20, James Kimonyo,The Ambassador Of The Republic Of Rwanda To China, Warmly Grant Wen Peng, General Manager Of Sron Silo Engineering Co., Ltd An Interview, A Consensus Was Reached On The Introduction Of Silo Systems Engineering In The Domestic Market Of Rwanda, And In-Depth Exchanges And Discussions On The Introduction Of Projects And The Methods Of Implementation Were Carried Out.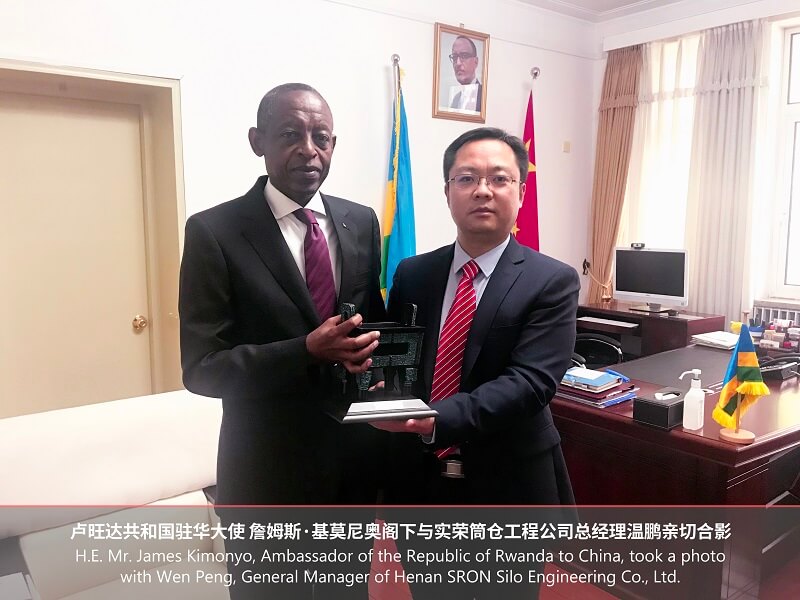 SRON silo is china's leading reputable epc contractor for bulk materials storage silo project closed stock ground, and bulk material port handling project for grain, cement, fly ash, clinker, coal, and mineral powders, etc. SRON has the qualifications of the main contractor for civil construction projects, main contractor for mechanical and electrical projects, and specialized contractor for steel structure projects. we have complete qualifications in the field of bulk material storage and transportation projects in china.
Wen Peng expressed his gratitude to the ambassador of Rwanda for his welcome and support and expressed his willingness to penetrate rwanda and other african markets. SRON will maintain our consistent concepts of development and cooperation and is willing to use better technology. more excellent engineering projects, friendly cooperation with more african countries to achieve a win-win situation. in the near future, through in-depth exchanges and on-site inspections, exchanges and cooperation will be carried out on the basis of clarifying the development needs of the two sides.