SRON has various professional and technical personnel, and has realized one-stop high-quality services from overall steel silo design, civil construction, steel silo construction to related supporting storage, transportation and other equipment installation. The steel silo currently produced can not only meet the storage requirements of solid granular and powdery material, but also meet the storage requirements of liquid materials. It has been widely used in cement, fly ash, clinker, aluminum powder, coal powder, grain , oil, flour, food, brewing, starch, feed, chemical industry, light industry, water treatment, environmental protection, electricity, ports and other fields. And the characteristics of less land occupation, large reserves, short construction period, less investment, clean discharging, energy saving and environmental protection have been well received by various applicable fields.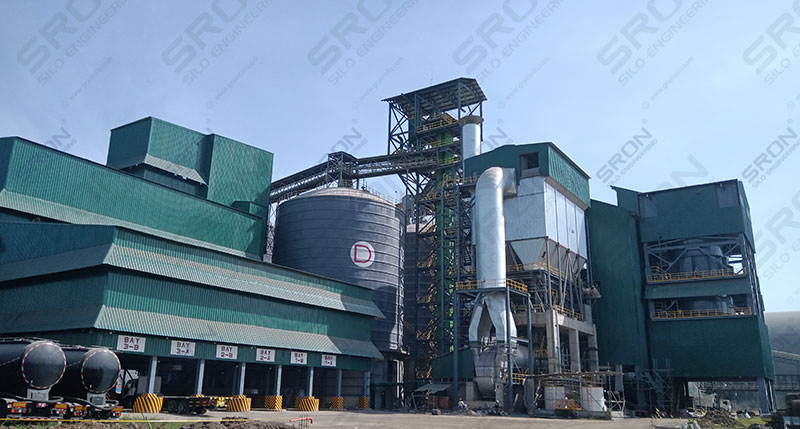 Features of SRON Steel Silo
1. Low initial investment of steel silo: Due to the adoption of a number of patented technologies, the use of this steel silo can not only save about 50% of building materials, but also save more than 60% of land.
2. The steel silo is overall good-performance, environmentally friendly, energy-saving, land saving, long-life, and can be used for 50 years.
3. The steel silo has advanced technology, high emptying rate, good homogenization effect, and the equipment in the storage silos can be easily maintained and replaced.
4. The storage capacity and bulk density of materials in the steel silo: the capacity of a single silo is 100,000 tons
A single cement storage silo capacity can be built to 0.5-100,000 tons, and at the same time, a cement storage silo group with a total reserve of several hundred thousand tons can be formed. Cement reserves are related to cement bulk density. The bulk density of cement with large gas content stored through the chute is relatively small, generally around 1.2, and it can reach 1.4-1.5 if it is placed for a period of time. If it is placed for much longer time, it can reach about 1.6. Under normal situation, the storage bulk density of cement is calculated as 1.35.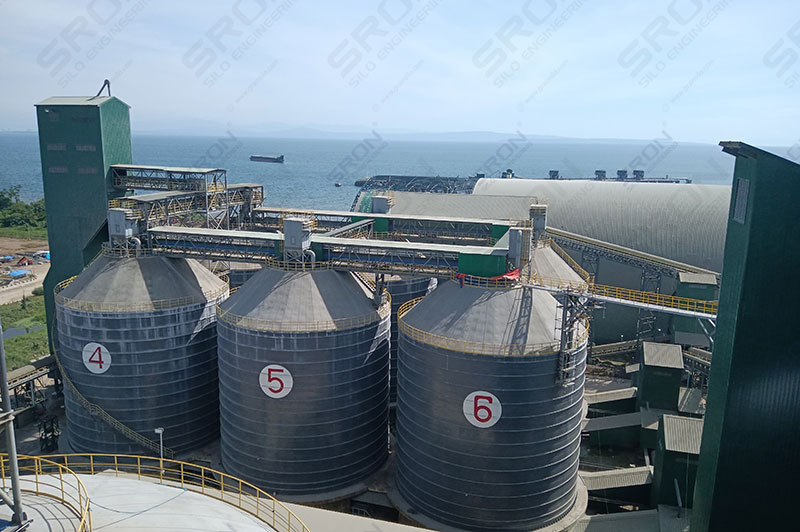 5. Material feeding of the steel silo: mechanical and pneumatic
According to the different situations of clients, the material storage method can adopt the methods of elevator feeding, chute feeding or pneumatic conveying pipeline feeding. A bridge can be erected between the top of the silos and between the top of the silo and the frame of the elevator, so as to install the material conveying equipment in the silo.
The unloading method of the traditional silo generally adopts self-flow unloading, but with the long-term storage of cement, if there is no external force, the discharge rate is quite low, generally not exceeding 70%. The steel silo adopts a special gasification discharge device combining gas fluidization and pneumatic pipeline, so that the cement in the silo firstly produces a fluidized state, and at the slope of the bottom of the silo close to the material gravity angle, a layered flow discharge is generated , so even if the bottom area of the silo is large, the emptying rate can be guaranteed to be above 95%. When the material is discharged, the cement is sent out of the silo by the conveying pipeline, and then the cement is sent to the packing bin or bulk cement tank through the lifting equipment or pneumatic conveying equipment. According to the client's requirements for the unloading flow, the unloading capacity of a single pipeline can reach 500T/H. For larger unloading flow, double-pipe and multi-pipe combinations can be carried out to meet client requirements.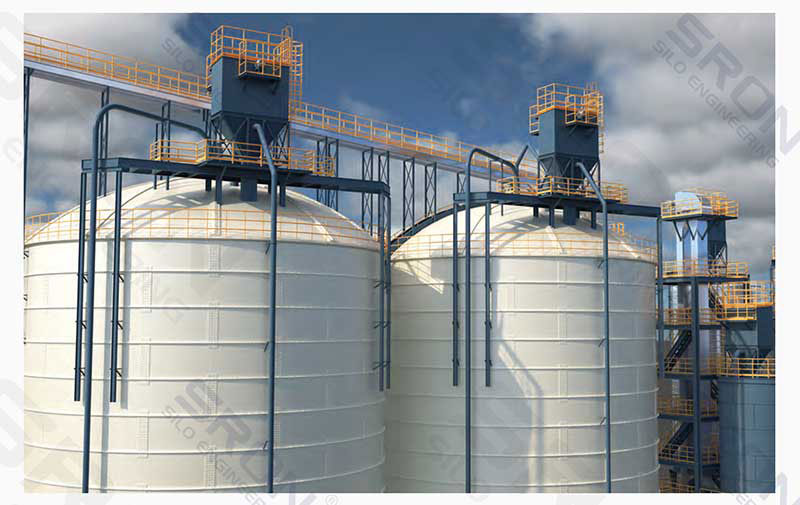 About Sron Silo Engineering
HENAN SRON SILO ENGINEERING Co., Ltd. is China leading reputable EPC Contractor for bulk materials storage silo project, closed storage yard, and bulk material port handling project for grain silo storage solution etc. SRON has the qualifications of Main Contractor for civil construction projects, Main Contractor for mechanical and electrical projects, and Specialized Contractor for steel structure project. We have the complete qualifications in the field of bulk material storage and transportation in China.

SRON focuses on scientific and technological research, achieving new researching technologies each year. Currently we have 62 patented technology, among which 7 are invention patents.

SRON have built projects in more than 30 countries and regions, including Russia, South Africa, Indonesia, Malaysia, Kenya, Mongolia, Philippines, Peru and so on, with more than 900 sets of steel silos and up to 3 million tons of materials storage capacities, SRON quality and reputation are highly recognized by global users. For more information about Sron Silo Engineering and the Storage silo solution, please contact us or leave your requirements.
Technology Builds the Beauty of Project